By Jerry Cabe
The 2016 edition of the Cincinnati IT/SPEC*tacular was held at the Mid-Ohio Sports Car Course on August 5-7. Friday was a combined Performance Driving Experience (PDX) and daytime Test-n-Tune. Forty-six new and experienced drivers took to the course to hone their driving skills during the PDX. Another fifty Club Racers participated in the Test-n-Tune sessions to get themselves and/or their car ready for the weekend's races. Friday evening, a Meet-n-Greet was held to allow all drivers, crew, stewards, and volunteer workers to gather for snacks and drinks along with bench racing. Memorial toasts were conducted for our recently lost Cincinnati Region members.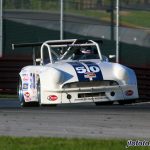 Saturday and Sunday's races were conducted with 189 entries. Good weather and good racing, combined with an experienced Stewards crew allowed the races to be conducted smoothly and mostly on schedule. Saturday evening we hosted a volunteer worker/official dinner in the LEC campground. Competition on the track was tight and several new track records were set over the weekend.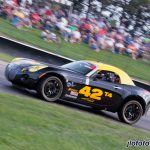 All comments received from participants were very positive. This is largely a result of our dedicated volunteer workers and specialty chiefs!
As I pass the Race Chairmanship position onto Brian Walker for the 2017 season, I'd like to give everyone involved over the four years of my stewardship my sincere thanks for supporting the Cincinnati Region's Club Racing Program. We can be proud of the races we have hosted!