33 entrants braved the threat of, you guessed it, rain for OVR points event #4 at Bitzer' s Farm… however after a very early morning shower the rest of the day was perfect RallyCrossing. The course was more technical for the 5 morning runs and faster after the lunch break. Each entrant completed 10 runs for the day and with 9 classes being represented!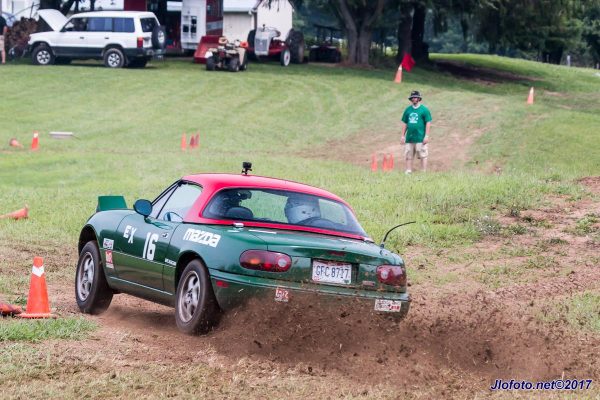 -Photo Courtesy of Jeff Loewe Photography–
Modified Rear hosted the battle of the day with John W England in his Miata holding off The Ryan Miles Porsche by 2.6 seconds. John E England and Daniel Shea battled for 3rd and 4th with a 2.344 gap. Scott Bitzer and Andy Storck finished up the field in the Team Gerbil BMW.
Modified Front Saw Wiliiam Ehrman in his neon glh besting Matthew Taylor.
Modified All was led by Lathrop Withington IV (the overall fastest car of the day) in his Subaru STI over Jeremie Snyder, Joshua Zortman, Jacob Sanor and Chris Nash.
Prepared Front Was won by Neohio's own Pete Remner sporting his Volvo for the weekend, followed by Mathew McGee, Alex Ashbaugh and Logan Waller.
Prepared All was won by a very lonely Orion Fairman in his schwarz Zastava Onpressa 2.5t…
Stock Rear was dominated by the team watermelon entries of Tavis Spencer and Takuto Takagi followed by Tyler Moser, Nathaniel Rosso and Tyler Baumet.
Stock Front saw Caleb Schuiling besting Andy Kihm, Eric Schmidt and Brian Lynch.
Stock All winner John Voegeli overcame the charges of Duane Simons and Michael Holland.
Exhibition class was Won by Sidney Scott with and overall time of 321.569 besting the Team Watermelon Miata of Nathan Roberts and Ryan Street.
It was a wonderful event hosted by the crew at OVR… Special thanks to Jeremie Snider for all his dedication and hard work!
The next event is Saturday, August 26, 2017 OVR PE5 at Bitzer's Farm, Greenfield OH 45123
RallyCross rules can be found at: https://www.scca.com/pages/rallycross-cars-and-rules
Local RallyCross Events can be found here: http://cincyscca.com/rally-cross/2017-schedule-and-results/