July was an interesting month for Cincy autocross with members attending and doing very well across the region.
It started with the Indy Region Great Lakes Div (GLDiv) Solo Series events at Grissom ARB in Peru, IN on Jun 30 and Jul 1 where Divya Viswalingam had her first event on concrete, the Bristol Champ and Match Tours from July 4-8 in Bristol, TN, the Goodguys event in Columbus, OH on July 6-8, the Corvette Troy event at KilKare Speedway in Xenia OH on July 8, the Fort Wayne Region GLDiv event at the Allen County War Museum and Coliseum in Fort Wayne, IN on Jul 15, of course our event at Traders World on July 22, and the Western Ohio Region (WOR) event in Springfield, OH on July 29.
I highly encourage you to run other local events such as WOR SCCA, MVSCC, OVR SCCA, CKR SCCA, KYR SCCA, etc and the Great Lakes Divisional Series if you can't make any of the National level events.
Now to our event on July 22nd at Traders World.
We did set-up on Sat beforehand attempting to dodge the rain showers but got drenched. Given the forecast, the course was changed from that posted to provide additional safety should it be under water as forecasted on Sunday
The forecast of certain doom and gloom of deluge and thunderstorms for Sunday had many people cancel their registrations or not show up Sunday which was a mistake in my opinion. I say that because we barely got a few random drops of rain during a change-over meaning the 101 entrants who did brave the forecast were rewarded with six dry runs and the opportunity for 45 mins of fun runs at the end of the day. Regular competition was completed with trophies finished by 3:30! I'll thank our own James Elliott Roofing for installing an invisible roof over the entire course, paddock, and grid areas overnight Sat, how else could one explain why it stayed dry! Check out our live timing available via your cell phone anywhere and the on-site FM broadcast at your next event as they worked great.
The closest competition came down to the Street Open Index class of 18 entrants where Keith Koegler on his last run in his Ford Focus ST came from behind to edge out Jack Burns in his Honda Civic Type R by a mere 0.009 secs. Once again, the Novice class was the largest with 25 where the top two spots were a battle of Ford Fiesta STs with Daniel Gravett edging out David Bellanger for the top spot. Fastest time went to Christian Moist in his DM Birkin 7 with a time of 43.188. Fastest on Index with just 0.321 secs separating the top four and only 1.319 separating the top ten went to Keith Koegler in the Street Open class.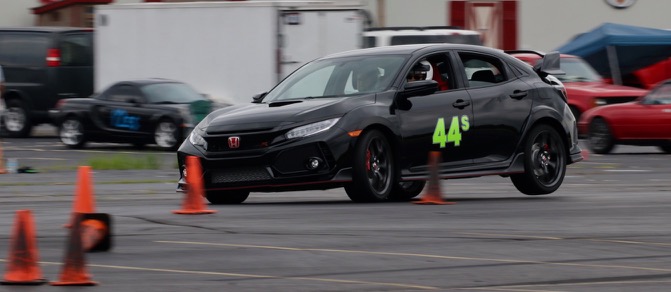 Our next event, PE 5, is Aug 19, again at Traders World with our Great Lake Div Solo Series events following Sep 15 and 16 (GLDiv/PE6). Register early for the events as they are likely to fill up quickly.
See you in August!
Kent Weaver
Cincy Solo Chair