Well, it's over…at least the competition portion of our 2018 autocross season is complete. : (
We had our last two points events Oct 7 and Oct 28 at Traders World which capped a great season for all. In all we had 1266 entrants participate in our Test & Tune, Starting Line, Evolution Driving School, Great Lakes Divisional, Joint MVSCC, and 8 Points events averaging 128 per points event up from 124 in 2017. Enough for the math, it was a very good season with a wide variety of events which were fun and well attended by novices and long term members and incorporated several improvements such as new timers, FM broadcast on site, live timing, improved novice program including split novice classes, new trophies, CincySCCA Solo – Autocross FaceBook page, – etc. Class points will be posted soon (if not already) and trophies will be presented at the banquet (Tentative Date: Feb. 02 @ Mill Race Banquet Center) – come out, enjoy the meal, bench racing with friends, and cheering on those who got trophies.
PE #7 – Oct 7 We had a Danny Popp designed course which received rave reviews and included his trademark "Cincinnati Boxes", an element with essentially two Chicago Boxes arranged in line with alternating openings. We had 135 entrants come out and play with really tight competition in SS (Dean Rindler over codriver Joel Zeller by 0.112), SSM (Russ Charlton over Ashley Irvin by 0.110 secs), FS (Clay Slusher edging Ryan Staup by 0.110 secs), Novice Street (Austin Engen over Lawrence Fasse on his last run by 0.091), CAM T (Nathan Johnson edging Dan Ballard by 0.082), and Street Tire (James Vital setting the mark on his second run winning by 0.043 secs over Eric Wuest). Danny Popp took first place in raw time by 0.706 over Dean Rindler and 0.047 on PAX where there were 11 within 0.787 secs of the lead.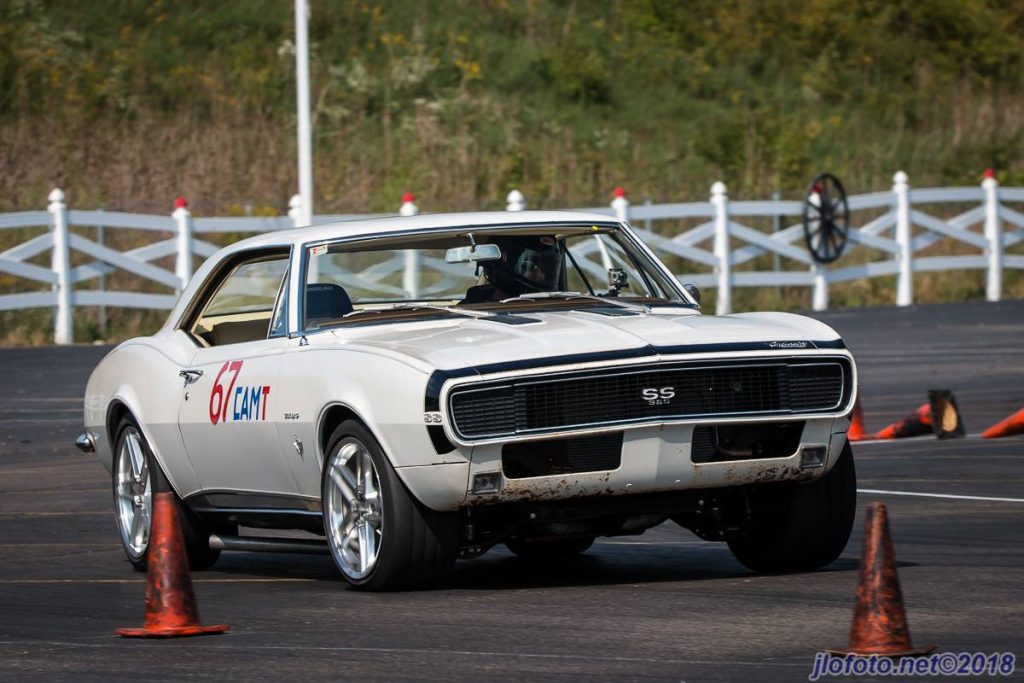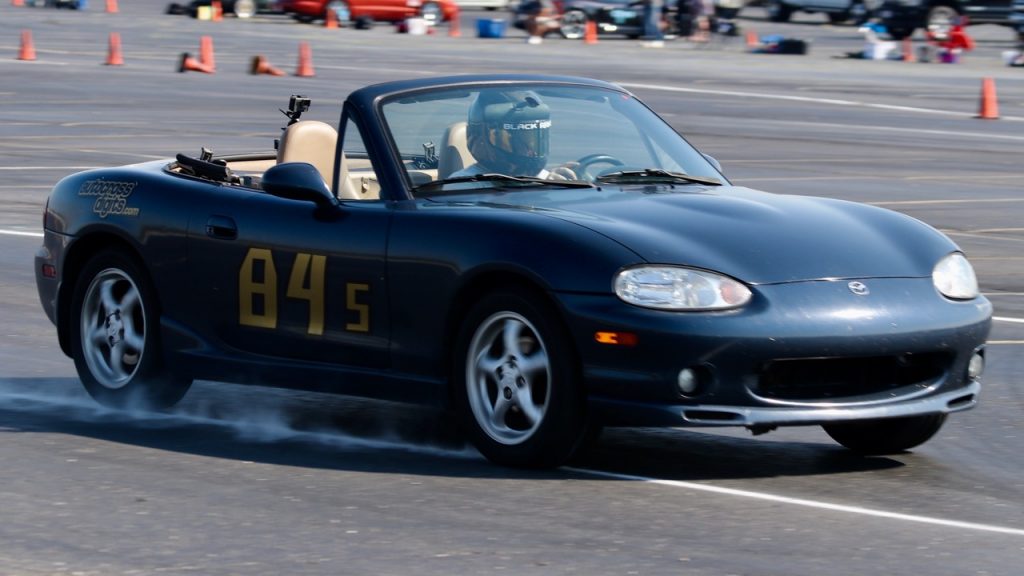 PE #8 – Oct 28 We still had 103 entrants come out and brave the miserable, cold (mid-40s) and rainy/wet weather on our last event. Can't really complain, the weather held out on most of our events this year even with similarly yucky weather forecasts at times. For those of you who aren't familiar with Traders World, it is a sealed asphalt lot which means it is slick to start with (compared to concrete), but then when you add rain it gets worse but reasonable, but when you add in temps in the 40s it was nearly ridiculous – might as well been on ice or snow unless you had an AWD car… I can personally vouch for used up, low tread, heat cycled rears not doing much on the Corvette… There were lots of spins and slides by the entrants, but the Tim Sholar designed course featuring a three gate flowing element was still a lot of fun and safe – just wish it would have been dry!!! Tightest competition was in the 17 entrant Street Open class where Terry Prand edged Jack Burns by 0.150 secs. With the wet/drying, and rainy conditions times varied all over the place (41.231 to 61.459), resulting in six entrants within 0.928 secs of the top PAX winner (Terry Prand over Jack Burns by 0.150 secs) and Terry Prand over Aaron Gastrich by 0.286 secs on raw time.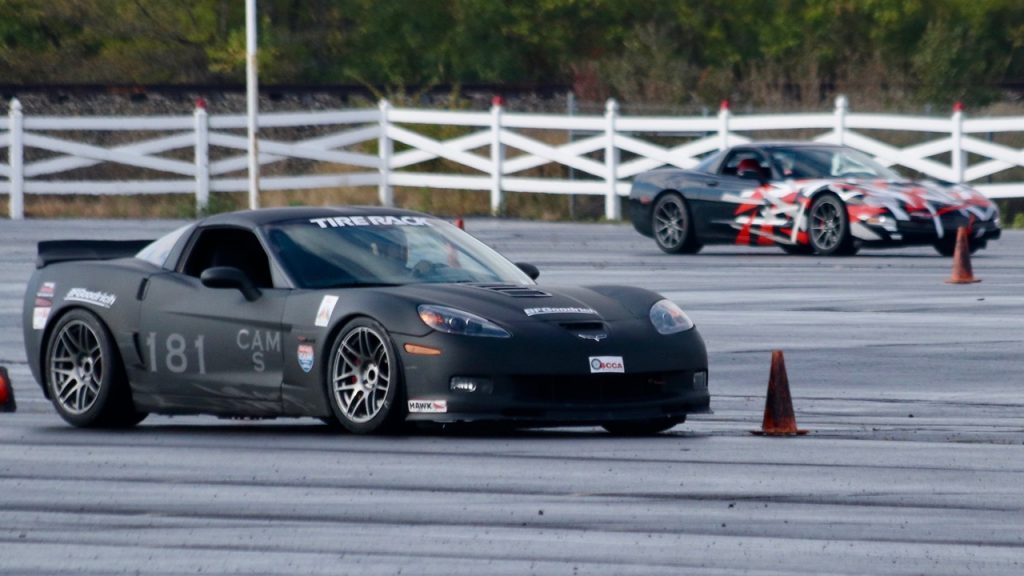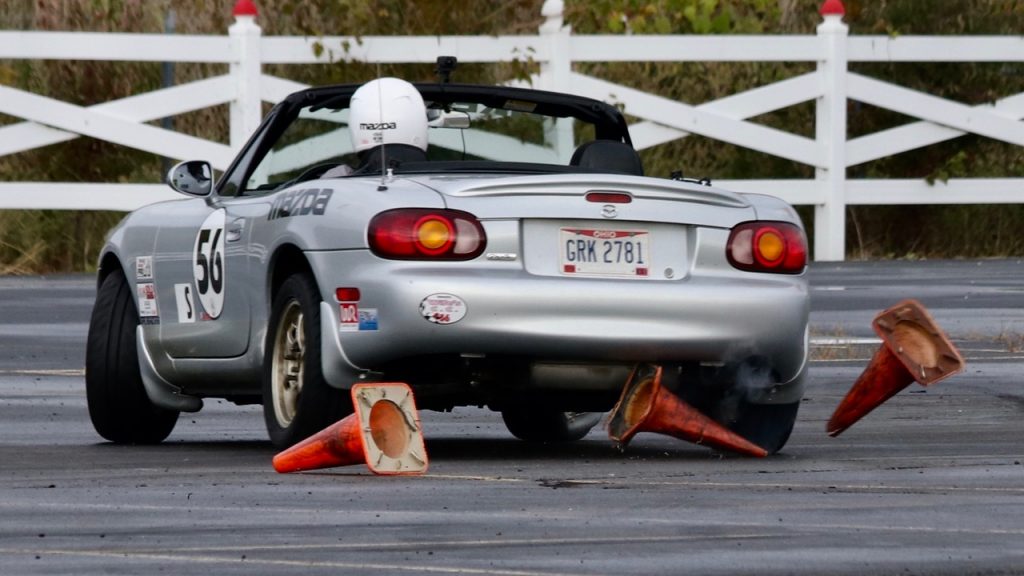 Also, we'd like to thank Mike Riegel for coming out and taking great pictures of our competitors this season.  If you have attended our Solo Events and have not seen his photos, please visit our Facebook Group Page "CincySCCA Solo -Autocross" and check out all the photos he has shared with us!
I wasn't able to give much of a report on the National Championships in the last report, but hopefully you were watching the facebook page for lots of it. Unfortunately whereas I was one of the nearly 1400 entrants registered for the event, I wasn't able to be there. That said, the one word describing the event would be rain, or perhaps it should be deluge. I heard they had record rainfall amounts of around 6″ of rain a day although not all four days were as wet reportedly. Lots of pictures were posted where you could barely see the car as it splashed through the standing water and deep puddles. Have to believe many pylons got displaced by the water as the car drove by it. Continental all-season tires became the tire of choice over BFG Rivals, Bridgestone RE-71Rs, Hoosiers, etc… Here is how our Cincy members or members from our area did, if I missed someone please let me know…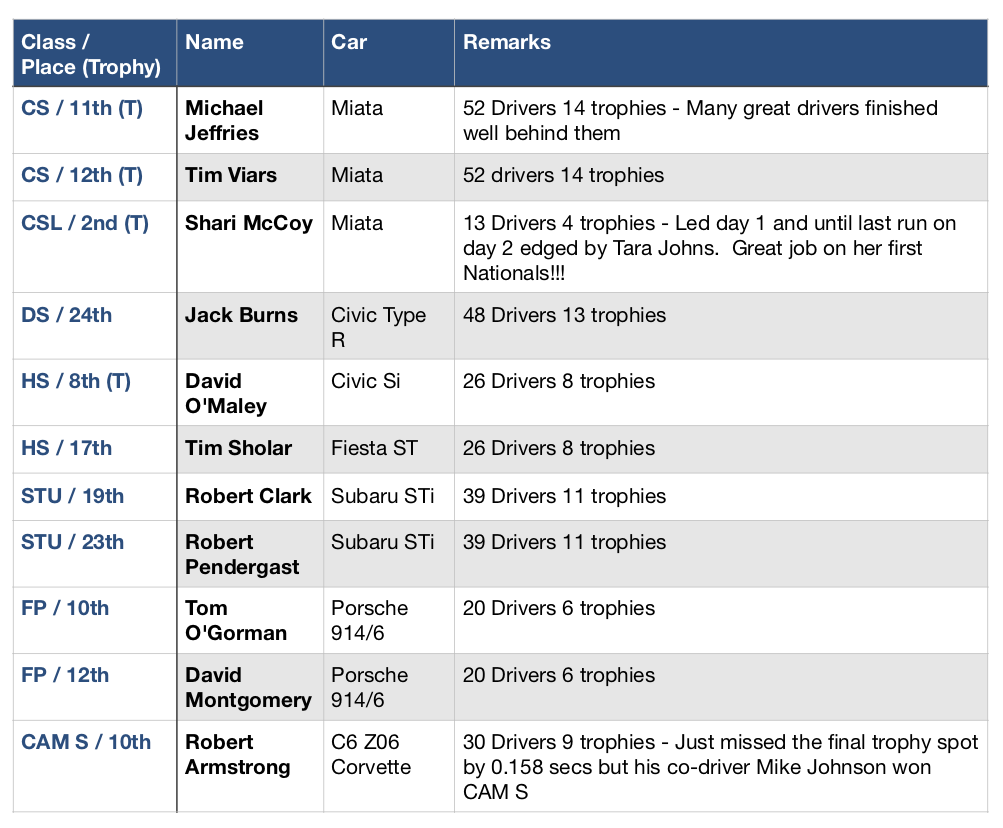 Still lots of things to work out on the event schedule next year, but we are intending to have an early season Test and Tune, the standard 8 points events, an Evolution School, a Starting Line event, and other dual events with other regions and clubs. Stay tuned starting next year…
Kent Weaver