Seems like forever since I actually submitted a report, at least on time… just ask Tact.
If you haven't been to one of our autocross events yet, you're missing it! The past three events have gone really well in my opinion, 163, 138, and a record 171 entrants, respectively. The 138 was a rain event where we even able to offer dry fun runs in the end. Sad to report the last event was a record on number of entrants and the first one with a late start in two years…first car at 10:02, a whole 2 mins late. 😀 Gotta thank my/our fantastic solo committee and really all the entrants too for helping us run the events so well, getting everyone five or more runs most of the time. Even our last event with 171 we got everyone five runs and were done running by 3:15 with trophy presentation started by 3:30.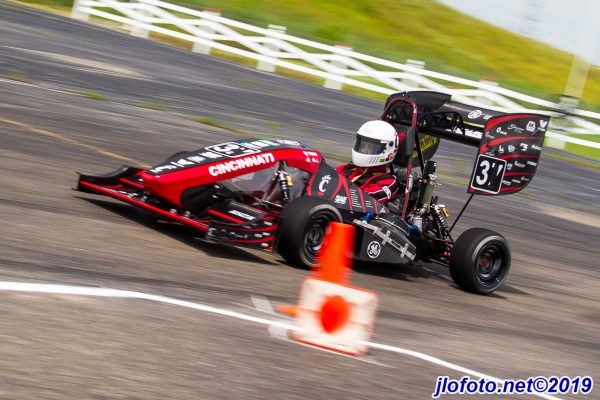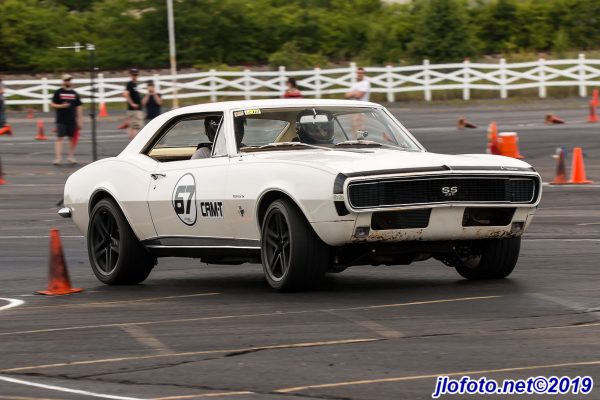 Jeff Loewe is CincySCCA's Official Photographer. Please visit his website JLOFOTO.net for more photos from our events!
Remember live results are available during the event – complete with segment times – by going to the Live Results (Beta) timing on our website and you can hear the announcer at 90.7 FM.
Ryan Street has been doing a fantastic job with our Novice program (1 year of experience or less), as evidenced by the 44, 38, and 36 entrants at the last three events. It's great to see so many new faces and more importantly so many returning new faces and helping/watching them improve and have fun. Along that line, Ryan and Nathan Roberts are organizing a Novice School, Jul 20th, the Sat before our next event, Jul 21st. Like to think of it as our regional Starting Line School, focus on driving skills, but will also work with you on course working, having your car ready/tech inspection, numbers, walking course, really everything. Intent is to get you plenty of runs in a shorter than normal time. Look for details and registration soon on CincySCCA.MotorsportReg.com and/or Schedule Page on our site.
If you haven't considered it, our index classes are doing really well. The advantage is you get more people to compete with/against, make more friends, and have more people to either learn from or help.
Thanks to everyone for leaving the cones in place which separate paddock and grid from course and each other – that really has helped set up and tear down. Thanks also to everyone for conserving paddock space to fit the 171 at the last event and not fussing if we ask you to move so we can for more. Depending how it goes, we might need to ask for family or support crew cars to park outside the gated area.
Remember to register early! We still have the online entry cap at 150. If you go to register and it's full, please register on the waitlist, it really helps and thankfully to date we've been able to accommodate everyone due to cancellations and all.
To reduce confusion and speed up registration for everyone, if you aren't an annual SCCA member and you registered on line, there is no need for you to fill out a weekend membership on paper at registration. You only need to fill out paper weekend memberships if you are a non-member walk-up entrant at registration ($15) or a guest who is going to be in a hot area (grid, course, or passenger).
Lastly, remember, Year End Points are based on your best 5 events. Four events are needed to qualify and trophies are awarded just like our point event (1 for up to 3 qualifiers, 2 for4-6, 3 for 7-9, 4 for 10-13, 5 for 14-17, then 1 for each four after that.)
Okay, enough of the odds and ends, can't wait for the next events!!!
Novice School – Jul 20 (Registration TBA)
Points Event #5 – Jul 21 (msreg.com/Cincy072119)
Points Event #6 – Aug 18 (msreg.com/Cincy081819)
If you have any questions please feel free to contact me or any of the solo committee, ask a question on our FaceBook Autocross Group, or PM us.
Kent Weaver