Time for another Cincy SCCA Solo Report. Last month I reported how June had been a busy month and said July didn't promise to be any more relaxed. I was right, and of course Aug and Sep will be busy too, no relaxing until Oct or really Nov.
July began with a bang, the SCCA Solo Summer Nationals in Bristol, TN, with a ProSolo Jun 29 – Jul 1 followed by a National Tour Jul 2-3. For Cincy Region, Jul 3 was also a "Popp Up Test and Tune" at Traders World, Jul 9 was our second AutoX 101 of the season followed by Points Event #4 on Jul 10. Of course if you didn't run our events that weekend, there was the Great Lakes Div Solo Series in Toledo. The next weekend was . July 23 & 24 was the Toledo ProSolo and the GLDiv events at Memorial Coliseum in Fort Wayne. Lastly, if for some reason you cannot make it to our Cincy Region Track Day, Time Trials, Road Race Extravaganza @ Mid-Ohio, there is the upcoming DriveAutoX at Grissom Aeroplex on Jul 29-31. Of course all of this is ignoring all the other non-SCCA events our people go to like Goodguys Summit Racing Nationals in Columbus Jul 8-10, UMI Autocross Challenge Jul 21-23, and the Subaru Challenge on Jul 23-24.
As I said, August and September promise to be just as busy.
Aug 6 GL Div Event 8 by SBR @ Grissom Aeroplex
Aug 5-7 Oscoda, MI ProSolo
Aug 12-14 CAM Challenge East @ Grissom Aeroplex
Aug 20-21 WOR PE 2 / Cincy PE 5 @ Traders World
Aug 28

Sep 2-4 SCCA ProSolo Finale @ Lincoln, NE
Sep 5-9 SCCA Solo National Championships @ Lincoln, NE
Sep 8-11 LS Fest Bowling Green KY
Sept 17-18 GL Div events 9 & 10 / Cincy PE 6 @ Traders World
Back to July Recap
Popp Up Summer Test & Tune – Jul 3
Danny Popp helped organize a Test & Tune on Jul 3 as a fundraiser to help recoup the costs of having the parking lot repair we had done in June. We had 54 entrants come out to enjoy the holiday weather and get enough runs most were done before the event officially ended. What a fantastic idea Danny, thank you to all who came out and supported the event!
Summer AutoX 101 – Jul 9
We had 31 students at the second and last regional school this year. The students all echoed the compliments we received after the first school. Definitely a great event, rewarding to those of us who instructed or helped, and of course improvements for all of the students.
Points Event 4 – Jul 10
We had 170 entries, got everyone six runs and were done running at a reasonable time. The course was unique in that it had a 100 ft diameter skid pad (or toilet bowl as I heard it called affectionately) right off the start leading into a five cone slalom and a decreasing radius hairpin turn leading into a Chicago Box. Rob Clark took his SS C8 Corvette to the top PAX time by 0.645 secs over Dave Montgomery in his FS Camaro and Raw Time by 0.212 secs over Christian Moist in his Birkin 7. Closest battle was in the hotly contested 8 driver DS class where Jo Jadeke in her Civic Type R held off Jim Zeisler in his BRZ by 0.162 secs. Our Novice classes continued to be well attended with 13 in NS and 21 in NM, the largest class at the event. Overall, another great points event.
Bristol ProSolo – Jun 29 – Jul 1
Had plans for a much larger Cincy group at the Pro, but barious things arose leading to only a few of us. Definitely a shame as this is a great 5 day set of events!
John Custer 8th STX
Krzysztof Zielinski 11th CAMC
Lang King 2T L2, First Round Ladies Challenge
Cindy Duncan 5th L2
Tina Coil 8th L2
Rob Clark 1T S3, 1st PAX, 2nd Super Challenge
Myke Dziengel 3T S4
Scott Bourne 20 S5
Bristol National Tour
Rob Clark 1T SS
Lang King 5 SS
Scott Bourne 9 DS
Cindy Duncan 2T DSL
Tina Coil 4 DSL
Myke Dziengel 4 STU
Krzysztof Zielinski 5 CAMC
Toledo ProSolo Jul 22-24
Ben Weaver 7 AS, 2nd Bonus Challenge
Kent Weaver 8 AS
Charles Totten 9 CS
Gina Ma 9 GS
Sam Oakes 10 GS
Jessie Nash 12 GS
Nick Erlenbach 8 STR
John Custer 10 STX
Krzysztof Zielinski 4T CAM
Lang King 2T L2, 2nd Ladies Challenge
Cindy Duncan 5T L2
Jo Jadeke 7 L2
Rob Clark 3T S3, Winner Super Challenge
Myke Dziengel 4T S4
Dave Montgomery 4T R2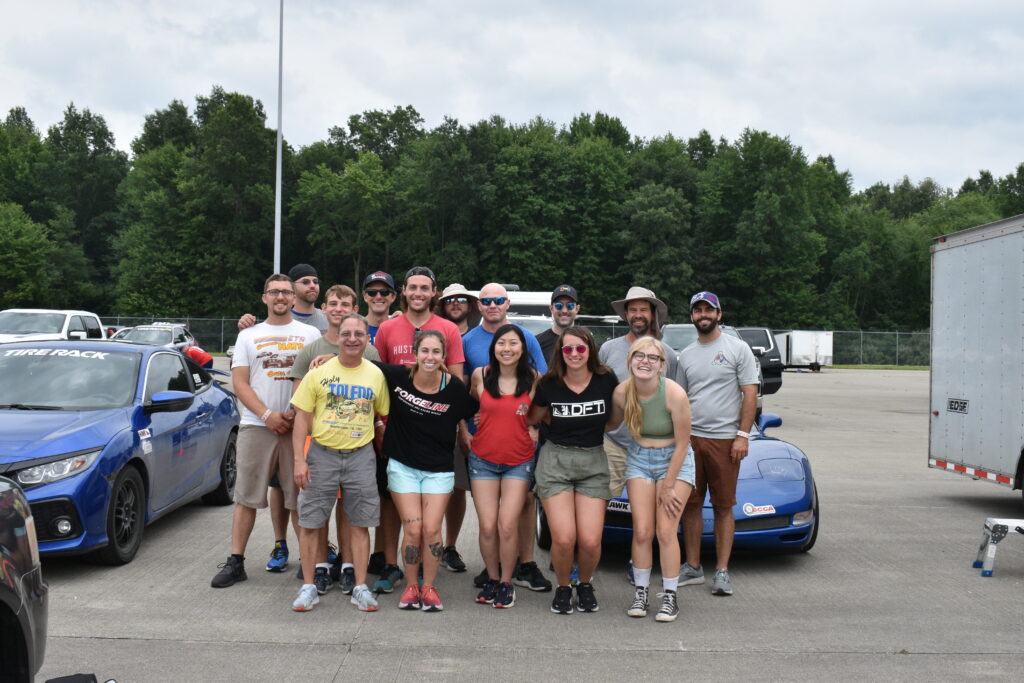 Talk with you all soon!
Kent Weaver
Cincy SCCA Solo Chair