It's been a busy month in autocross. Our region only had one event, but our region members have been very busy at National level events.
Michael Jefferies ran the Finger Lakes NY Championship Tour on Jun 8-10 and out of 284 entrants, we had 16 members run the Peru National Championship Tour event at Grissom AFB, IN on Jun 15-17. Of those 16, five trophied: Michael Jefferies 2nd in CS class; Tim Sholar also 2nd in HS; John Billingsley 3rd in CM; Dave Montgomery winning FP by 0.084 secs over Alex Jones and finishing 7th on PAX overall; and Ben Weaver dominating JA by 4.140 secs. Honorable mention goes to Evan Gill who finished in 3rd just out of the trophies in HS and I guess me for finishing one out in AS after being as high as 4th before last runs Sunday. A large group of others also ran the Optima Drive Autox event at Grissom the following weekend and the Norwalk Super Summit event earlier in the month amongst others, but I do not have results from those events. Along that line, ignoring just having fun, the best way to get better is to run events from more than just our region and ask for advice from others whether in your class or not. I highly encourage you to run other local events such as WOR SCCA, MVSCC, OVR SCCA, CKR SCCA, KYR SCCA, etc and the Great Lakes Divisional Series if you can't make any of the National level events.
Now to our event.
We had a big weekend at Traders World Jun 23 and 24. The Jun 23 Fun event with the Shelby Dodge America Club (SDAC) morphed into a Miami Valley Sports Car Club (MVSCC) event with SDAC after they asked to run a joint event with us. Even with threatening weather, we ended up with 80 entrants at the MVSCC event Saturday including 29 SDAC entrants who came from all across the country – one even drove his car here from Oregon! It was fantastic seeing all the "old" Shelbys, I have many fond memories of competing against the GLH Turbos in CS against my NA Miata. Although not officially part of their national convention, everyone I spoke with were happy to have had the chance to combine this with the other planned events (drag race, car show, etc.) Saturday, MVSCC classes were run, interesting to see how the various cars fit into the NASA classing structure which has far fewer classes and bump to the next class up based on modifications, tires, etc. Made for some interesting competition over the 8 runs they were able to provide.
Sunday, we had 134 entrants and were able to provide 5 runs on a fun course based on one Ben Weaver designed last year (Saturdays course was run in the opposite direction basically). Novice class continues to be strong with 35 entries and 72 of our 136 entrants were in index classes. Max Michenko edged out the closest victory Sunday with a 0.010 win over Steve Munday in DS, Dave Montgomery edged out Robert Pendergast for the fastest index time on the overall event PAX by 0.022 secs, and Christian Moist held off Robert Pendergast by 0.126 secs for the overall fastest raw time at the event. Our new Live Results (can be accessed on our homepage, under "Autocross" Menu) were doing great and praised by many.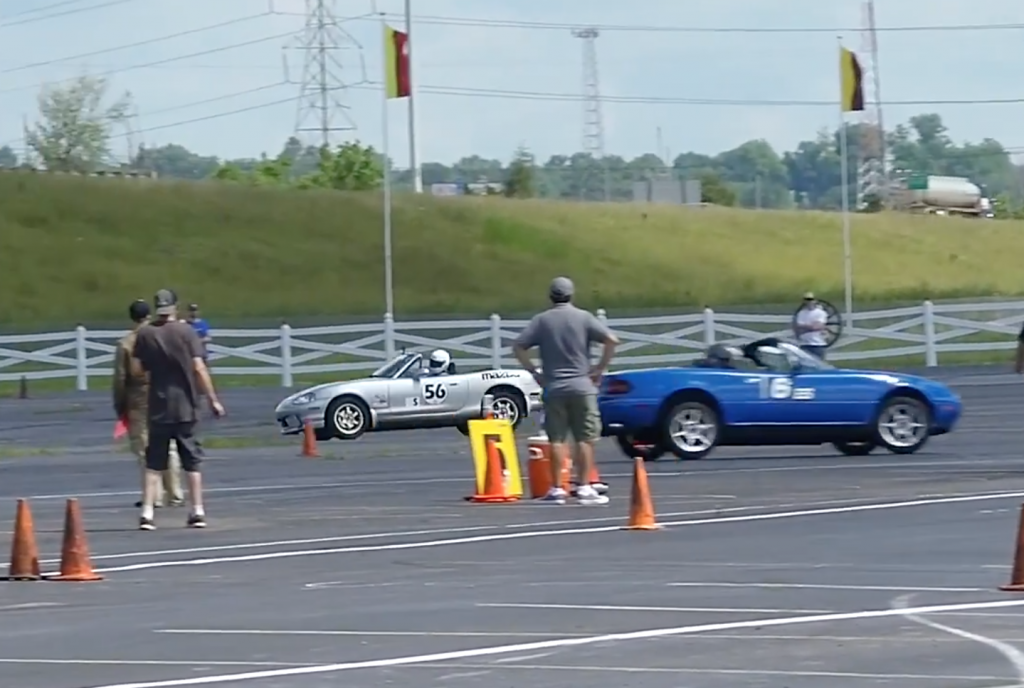 Our next event, PE 4, is July 22, again at Traders World (Registration is now open on Motorsportreg.com/). There numerous big events this month at which we need a strong showing of Cincy Region members, such as Great Lake Divisional events Jun 30 & Jul 1 at Grissom and Jul 15 at the Coliseum in Fort Wayne. There are also many national level events with a Match Tour Jul 4-6 and Championship Tour Jul 6-8 at Bristol TN Motorspeedway, Packwood, WA Championship Tour on Jul 13-15 and ProSolo on Jul 20-22, and the Oscoda ProSolo on Aug 3-5.
See you in July!
Kent Weaver
Cincy Solo Chair