Novice 101 – It's been a month since some of you have heard from me and only two-weeks for those of you who were able to make it out to our Novice 101 and/or Points Event #2 on May 15 & 16. Nick Isaac and Bill Hughes did a fantastic job on the Novice 101 event organizing and providing instructors for 52 students. Instruction not only focused on driver skills, but how to read the course during a course walk, driver position, corner/other working positions, getting the car ready, etc. There were two courses in the morning sessions where the students got to focus on different aspects such as a slalom and Chicago Box or a separate course which emphasized looking ahead, threshold braking, cornering speeds, etc. In the afternoon, we hooked it all together and the students got to demonstrate what all they learned on the segments and continue to hone their skills.
Points Event 2, May 16 – The event started off with a sketchy weather forecast in line with the other two Sunday events, all of which have promised rain. Unfortunately, we did not escape totally, but it "only" did that "r thing" during registration, tech, etc and the first three runs of Heat 1 thankfully, with it warming up enough to leave some nice sunburns on those who didn't use sunscreen. We had over 190 registered prior to the event but with the forecast only 169 took runs. Due to everyone's help, we were able to give 6 runs again and still be done running by 4:00. The closest battle, and this was really close, was in Novice Street where we had 15 entrants, the top 5 were separated by 0.528 secs, and Tyler Donaldson in his Veloster on his last run dropped 0.214 secs to take the win by a mere 0.005 secs over Bryan Morell in his Civic Type R. Street Open, 17 entrants, also had a very narrow margin of victory where Jack Burns edged out Dale Kunze on his last run both in Civic Si's by a mere 0.031. Pro Class, seven deep, was another where Rob Clark in his C8 Corvette edged out Dave Montgomery in his Camaro SS by a mere 0.066 secs. In both raw and PAX, Rob Clark pulled off the trifecta taking his class as well as top PAX and top time of day.
Next event, Points Event 3 is Jun 13th. If you haven't registered yet, please do. We already reached our cap of 175 as of last week (three weeks out), but please register on the waitlist so as people cancel you can still make it in possibly/probably. You will not be charged until registration closes late on Jun 10th. Those who make it in will be notified after registration closes Thur, Jul 10 @10pm.
Reminder:
We have been able to get everyone six (6) runs so far even with 170 entrants because for the most part people have been prompt and on time during registration, tech, worker check-in/change-over, and with their cars when they are ready to be sent. That said, we are starting to get people showing up later for registration and tech. In order to start on-time and maximize the number of runs we can offer, we need everyone's cooperation in being timely for the following:
Registration 07:30 – 08:30
(Please note, late fees will be assessed or we may have to turn you away if too late. Please contact us if some emergency occurs which is making you late.)
Tech Inspection 07:30 – 08:45
Driver's Meeting 09:30 or earlier
Worker Change-Over – We have started trying to do worker change over on the fly, please check-in during the last run of the heat prior to your work heat and head out during the last runs to minimize/eliminate down-time between heats. and maximize the number of runs we can provide.
Event Registration – All of our events for the remainder of 2021 are now listed in MotorsportReg; however, registration for each event will not open until six (6) weeks prior to the event. If/when you click on the event registration, it will state when registration opens.
Travel to other events! – There are so many other regions and clubs which put on autocrosses in the area. Be a part of the traveling Cincy crowd and experience other venues. We have many regularly going to Western Ohio Region (Dayton), Fort Wayne (duh) , Indy (Grissom ARB or others), Miami Valley Sports Car Club (Dayton), Ohio Valley Region (Columbus), Central Kentucky Region (Lexington, KY), Akron Sports Car Club, Northwest Ohio Region (Toledo), etc. We also have the benefit of the Great Lakes Solo Series (GLSS) in which Cincy has two events in Sept) but also offers four other weekends at Grissom or Parkersburg, West Virginia, or in Fort Wayne. Don't forget the SCCA National level events such as the Championship Tour at Grissom this coming weekend, a Pro in Toledo, a Championship Tour and Pro Solo in Bristol, TN, etc.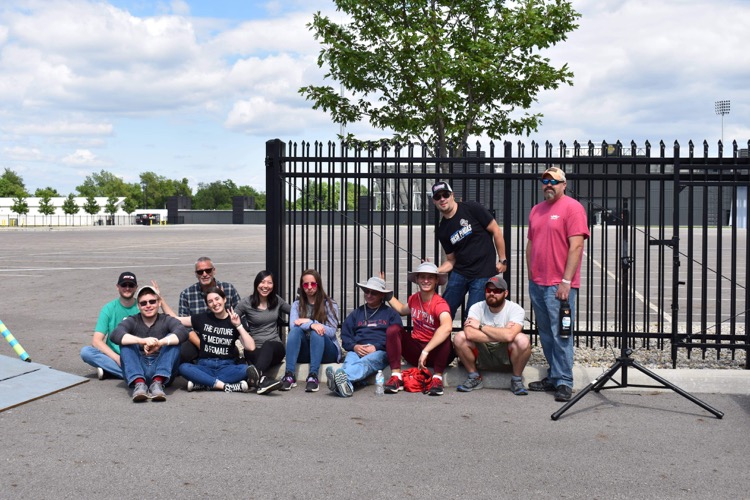 That's enough for now,
Kent Weaver