Wow, the season has barely started but is cranking already.
Shortly after I last made a report, we had our first event weekend Apr 9 & 10. As we came closer to the weekend the weather forecast wasn't good for Saturday and only got worse the closer we got. Based on the forecast we decided it was best to ask you, the entrants, what you wanted to do and the answer was a resounding please cancel the event. We listened and that was a good thing, because by the time we got there (if you remember), Apr 8 and 9 were flat out freezing cold, wet, windy, and just downright miserable. We did course set up that afternoon and even had snow/sleet to validate the decision to cancel. Kudos for common sense…well, as much as any of us have such a thing… Sunday dawned far, far better; it was even sunny, and t-shirt warm. Heck, many of us came home with pretty solid sunburns! I'll take that over cold frozen precipitation any day! Back to the event, we had 149 entrants on Sunday, got six runs and finished running by 3:00. Great job by all, thank you! The tightest battle was in the 17 entry Street Open index class where Keith Koegler edged out Joel Zeller by 0.024 secs. Top time of day went to Richard Sawicki in the FSAE car and top PAX went to Devin Taylor in Street Touring Open. Enough of the season opener tribulations.
Moving on to the next event weekend a mere two weeks later and true to Ohio, whereas we had accumulating snow earlier in the week, it was very sunny and we had temps in the upper 80s for both Sat and Sun, Apr 23 & 24 respectively. Saturday was the Miami Motorsport Club Fun event where the 68 entrants got to run it in a test and tune format the whole time instead of a fun event in the morning and test and tune in the afternoon. By 4:00, by far the majority had stopped running, because they had gotten all the runs they wanted to take.
Sunday, Apr 24, our first points event dawned just as nice weather wise with temps in the upper 80s/low 90s for the 178 entrants. The course was essentially the opposite direction as Saturdays' course and had been designed with this direction in mind, but I have to say I enjoyed Saturday's course a bit more personally. This event had so many tight competitions it was tough to keep track of as things changed by the moment all day long. SMF had Brian Gard edging out Brent Walsh by a mere 0.114 secs. In CAM T, Nathan Popp took the win by 0.173 secs over Cam Joseph. in STH Mike Kruetzkamp edged out Jake Favaron by 0.178 secs. D Street had mom over daughter by a "whopping" 0.180 secs with Jo Jadeke using that age and treachery to finish just ahead of Aleshia Findley. G Street followed suit with Jim Hardesty over Sam Oakes by 0.201 secs. CAM C had Ron Schoch over Ryan Wilhelm by 0.232 secs. CAM S had Paul Curley a snitch ahead of Marshall Reinert by 0.236 secs in our largest class with 22 entrants. In Street Touring Alexander Prand took first over John Custer by 0.260 secs. Open Street Open had Lang King putting the smack down on the other 17 entrants and beating Dean Rindler by 0.285 secs. Fastest Raw Time and PAX Time both went to Rob Clark in Pro class with a raw time of 39.208 secs just ahead of Crhistian Moist with a 39.390 and PAX time of 32.609 over Myke Dziengel with a 33.419 sec time.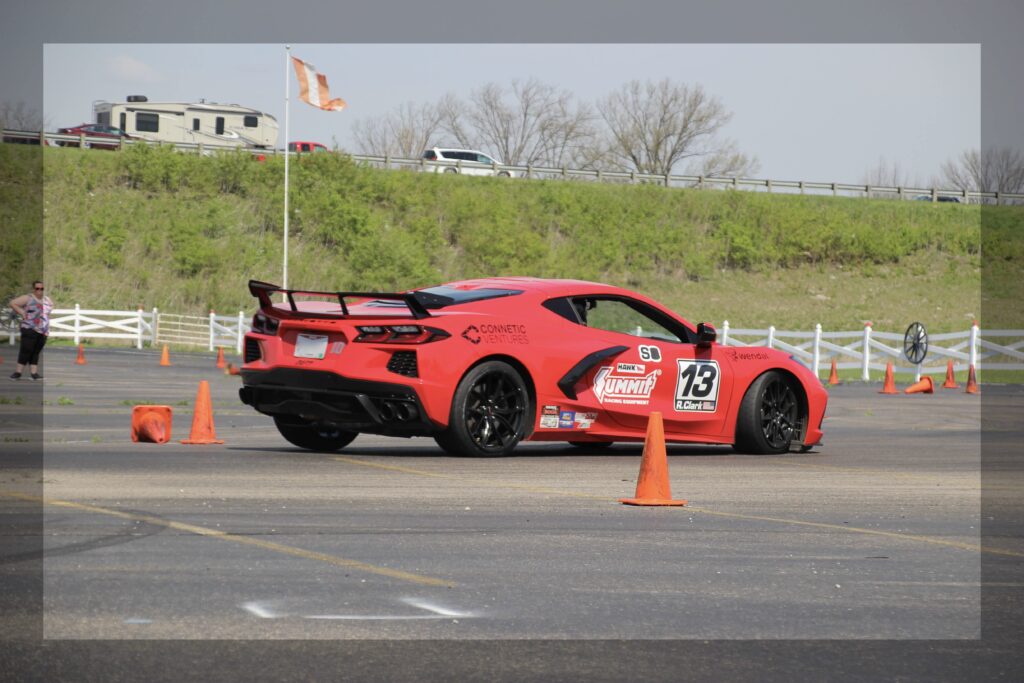 As I type this, we are preparing for the Phase 1 and 2 Evolution Performance Driving School events this Sat, Apr 30th, and Sun, May 1st respectively. Twenty-four students are signed up each day to get some of the best instruction across the country.
Upcoming Events:
– Our next event (after this weekend) is our Autocross 101 school for novices on May 14th followed by Points Event 2 on May 15th. Please go to MotorsportReg and register before we hit the entry cap for both. (CincySCCA.MotorsportReg.com)
– The following event is a Starting Line school on Jun 18th and Points Event 3 on Jun 19th. (CincySCCA.MotorsportReg.com)
– Peru, IN (Grissom Aeroplex) National Championship Tour is open for registration already and is coming up Jun 10-12 where I hope we will bring a large Cincy showing and trophy raid.(https://www.scca.com/events/2000312-2022-tire-rack-scca-peru-national-tour-grissom-aeroplex)
That's enough for now, I'm sure you are bored with my meanderings. See you on site sooner vs later!
Kent Weaver
Cincy SCCA Solo Chair